Pastel Chakra Jade & Wood Diffuser Bracelet
Jade Stone: is a protective stone, it helps to keep away harm and brings harmony. Jade is also known to attract good luck and friendships.
Whenever a chakra gets blocked the life energy gets blocked, leading to the onset of mental and physical ailments.
Here is a guide to the 7 chakras and their meaning.
CROWN CHAKRA: Connection to the divine
The highest chakra represents our ability to be fully connected spiritually.
Color: Violet
Location: Very top of head.
Emotional Issue: Inner and outer beauty, our connection to spirituality.
Physical Association: Pineal gland, nervous system and brain.
THIRD EYE CHAKRA: Intuition and sense of purpose in life and our ability to focus and see the bigger picture.
Color: Indigo
Location: Forehead between the eyes.
Emotional Issue: Intuition, imagination, and wisdom.
Physical Association: Pituitary gland, sinuses, eyes.
THROAT CHAKRA: Self expression-Our ability to communicate
Color: Blue
Location: Throat
Emotional Issue: Communication and self expression of feelings.
Physical Association: Vocal cords, teeth, and respiratory system.
HEART CHAKRA: Love, relationships, and selfawareness.
Color: Green
Location: Center of chest (above the heart).
Emotional Issue: Joy, love, and inner peace.
Physical Association: Immune system, heart, lungs, circulatory system.
SOLAR PLEXUS CHAKRA: Ability to be confident and in-control of our lives. Personal Power and ability to channel.
Color: Yellow
Location: Upper abdomen
Emotional Issue: Self-worth and self-esteem
Physical Association: Digestive track, nervous system, and pancreas.
SACRAL CHAKRA: Our personal connections to accept new experiences and others. Sexuality and pleasure.
Color: Orange
Location: Lower abdomen
Emotional Issue: Sense of abundance, well being and pleasure.
Physical Association: Reproductive organs, kidneys and bowels.
ROOT CHAKRA: Represents our foundation and feeling of being grounded. Career and money mindset.
Color: Red
Location: Base of spine (tailbone area)
Emotional Issue: Survival issues such as money and food.
Physical Association: Spine, rectum, legs, arms, and circulatory system.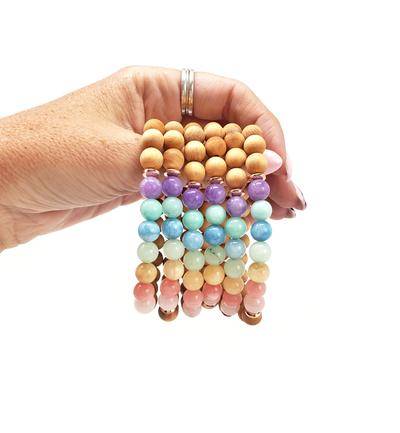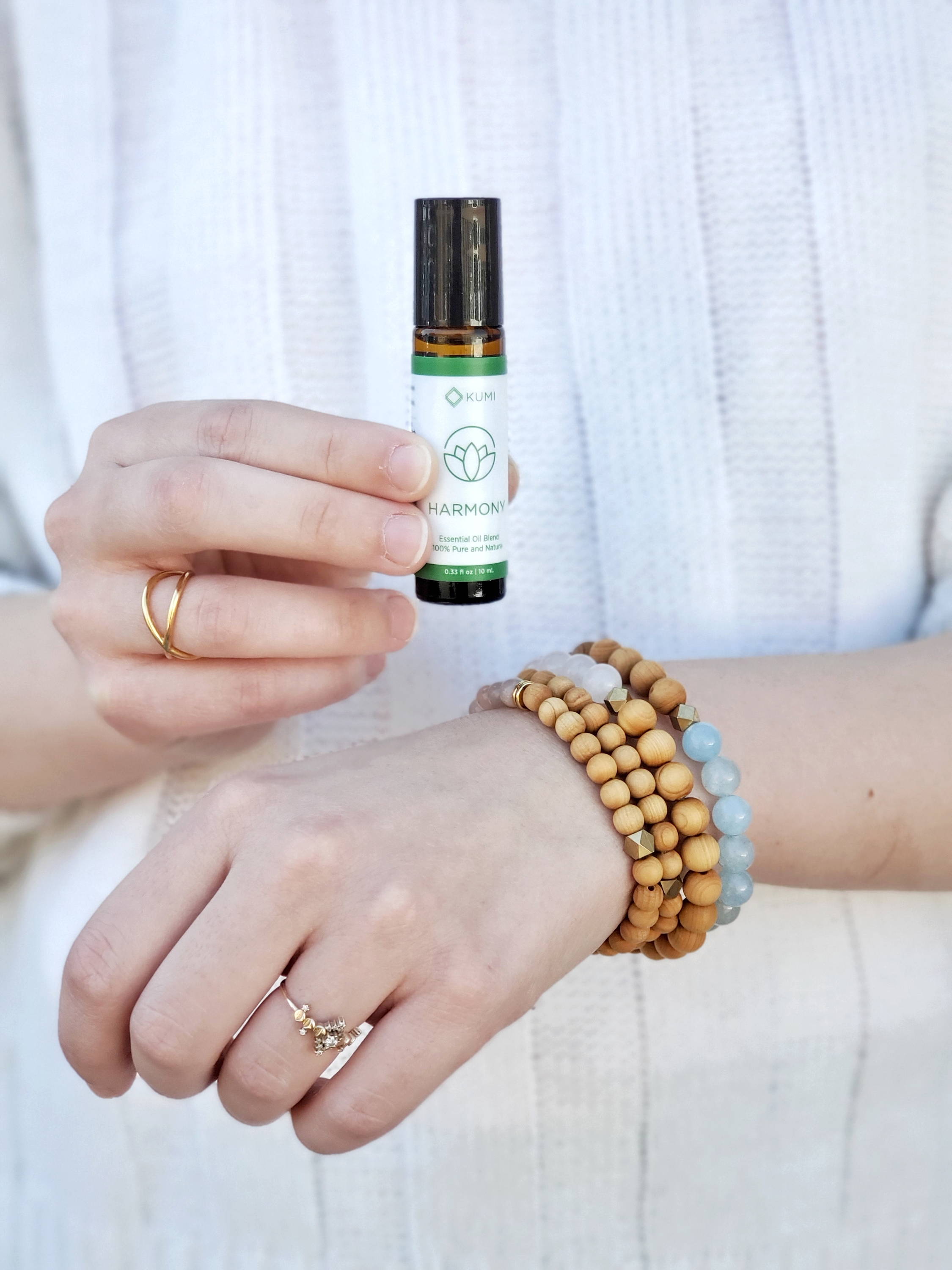 Choose: Choose your favorite essential oil.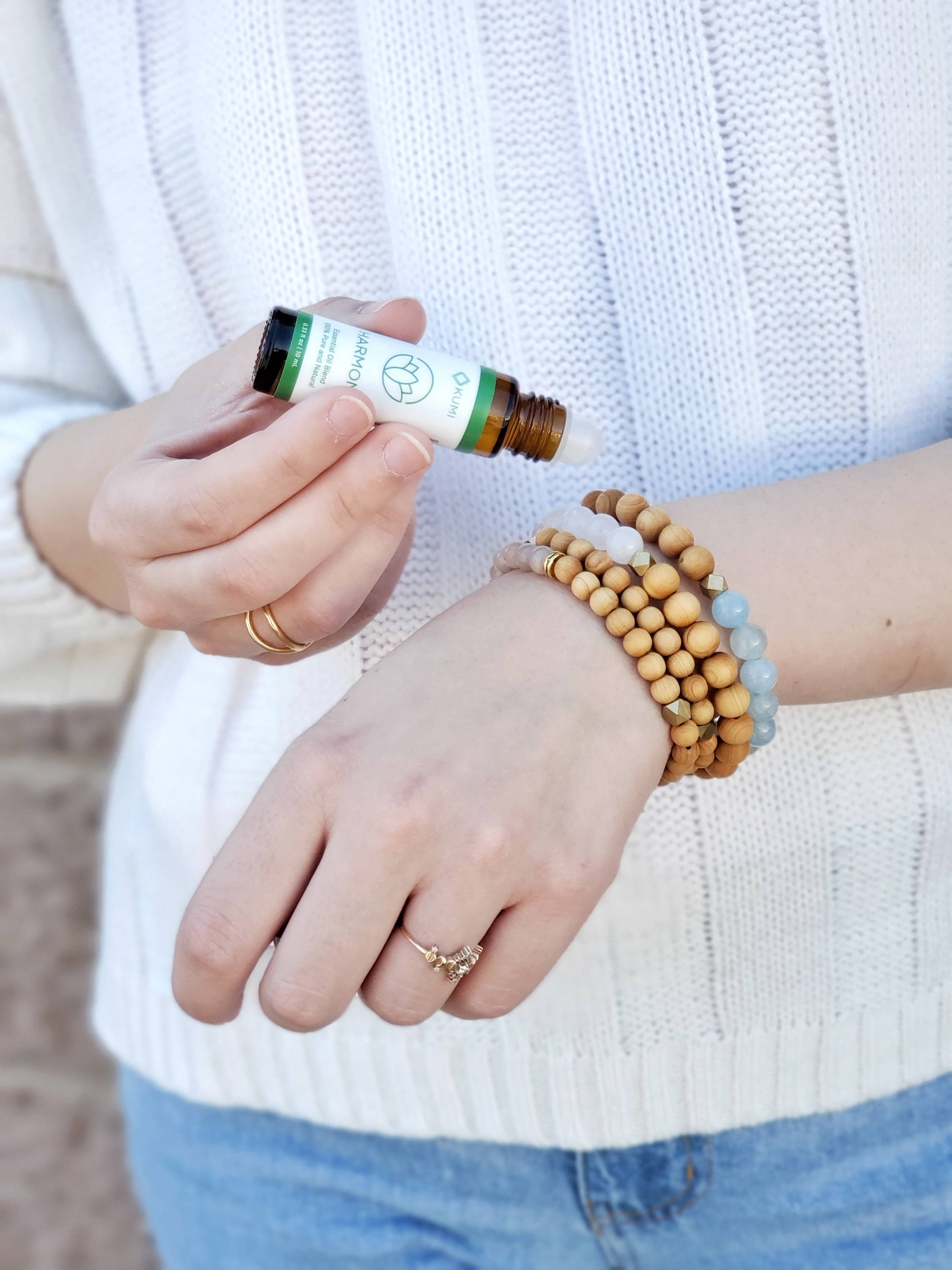 Apply: Apply 1-2 drops to your finger or cotton swab and add to 2 or more of your beads. You can use a roller bottle for an easier application.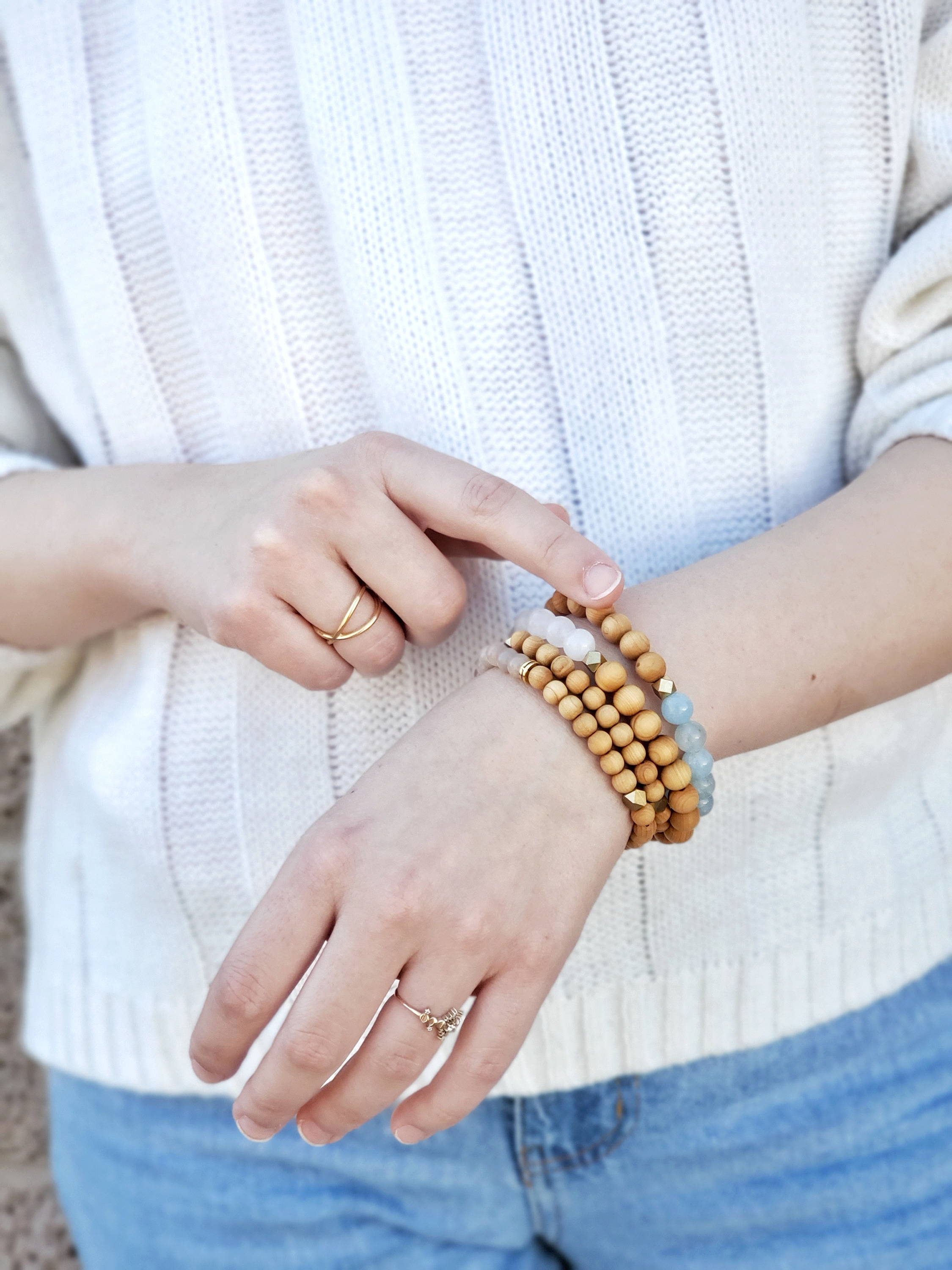 Diffuse: Once oil is applied to your diffuser bracelet, the scent will last between 6-12 hours. Happy Diffusing!
Pro Tip: The beads coated with oils should be turned to the inside of your wrist. Allow time for the oils to dry and absorb before wearing the bracelet.
Pastel Chakra Jade & Wood Diffuser Bracelet
We design, test and ensure the quality of each piece of jewelry. They are made with durable elastic bands to accommodate a variety of wrist sizes and prevent it from breaking. Each bracelet is uniquely handmade with natural stones which offers an authentic variation in color, size and shape.

Bead Size 8mm
Bracelet size 18cm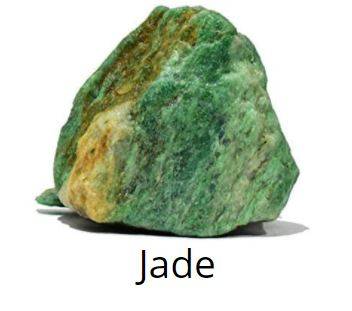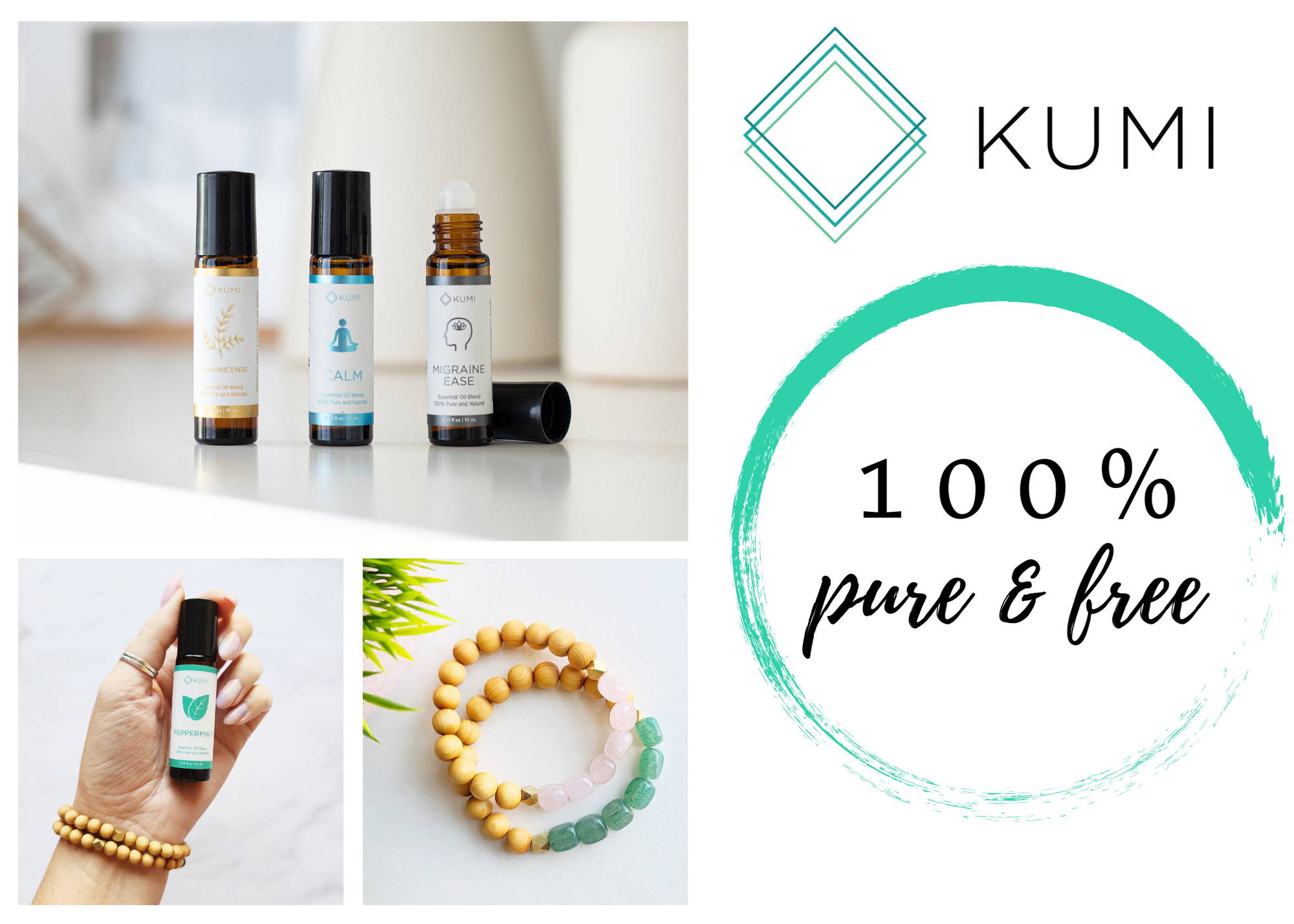 At Kumi, quality is vital. Your happiness is important to us. This is why we offer our 100% Happiness Guarantee.
Our Jewelry is made with authentic stones and crystals. Our oils are sourced from around the world and third party tested to make sure they are pure and meet the standards you expect.